Pumpkin Scented Soy Wax Candle
Are you a fan of pumpkins or pumpkin spice? Our soy wax candle Radium is one of our seasonal fall scents which is only available through the fall and winter months each year. Radium is a pumpkin scented candle with additional scent notes of vanilla whip, candied ginger, and toasted cinnamon. This sweet smelling candle might leave you tempted to eat it, but we advise against doing that. Available in both our classic single wick 8 oz glass jar or in our double wick 16 oz glass jar. Radium is a great way to get cozy and warm up on a cool and rainy autumn day.
Be sure to order these before they are all gone! Once winter comes to a close, this scent wont be available until the next fall season. Keep an eye on our social media for announcements for when we will be stocking them up again.
Remember to join our mailing list to receive 10% off your first online order and to know about new scents and product launches first!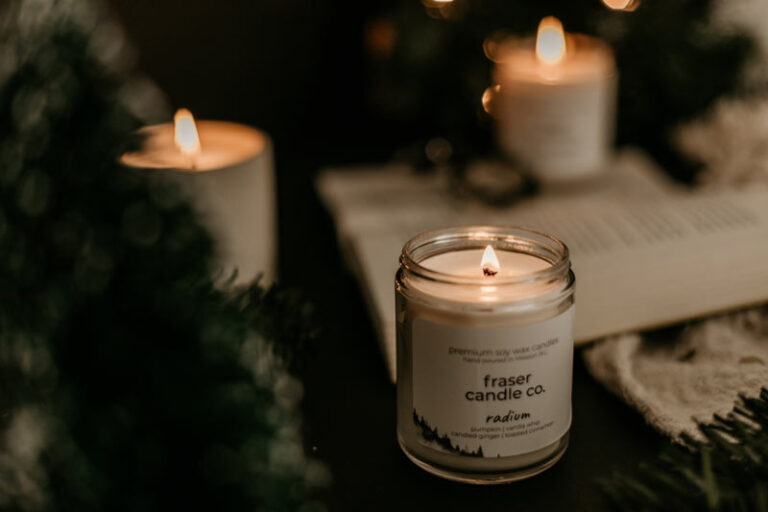 At Fraser Candle Co. we are striving to create premium soy wax candles that are better for you and better for the environment! All of our wicks are lead free, our scents are free of phthalates and our candle wax is biodegradable and vegan. If you have any questions about our Radium soy wax candle please feel free to contact us.
Can't get enough pumpkin or pumpkin spice? Try Spirea, one of our winter collection scents. Spirea is our own little take on the classic gingerbread cookie. Spirea contains scent notes of pumpkin spice, caramel, molasses, and ginger.
If you would like to browse more of our Fall/Winter season scents, see the full collection here.